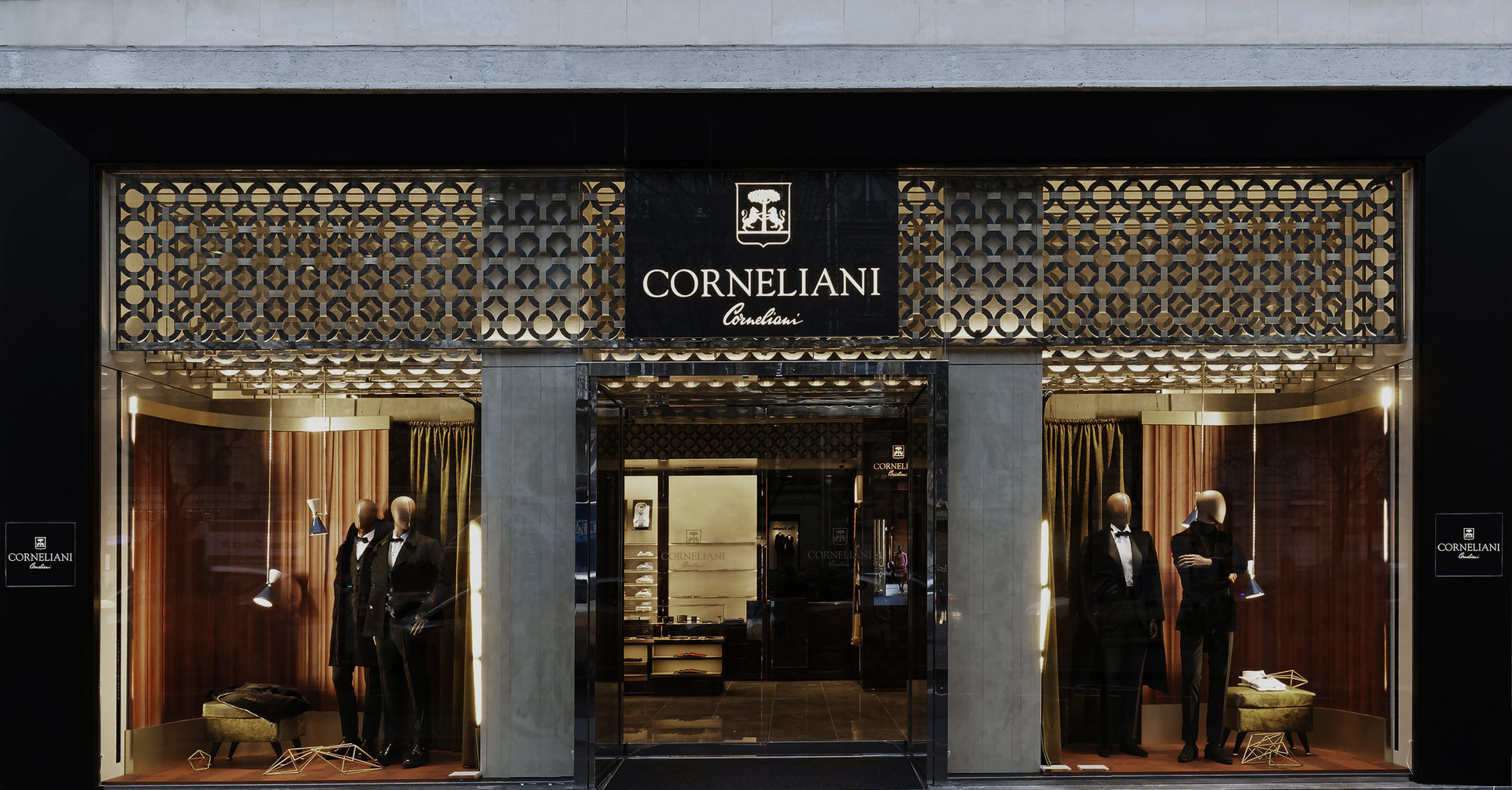 25 Apr

Paradise in Milan part 2 – Corneliani Showroom
Back to Corneliani Showroom!
Back to the Milan Corneliani Showroom. This has been probably the biggest surprise for me. I imagined a store sized room / apartment, where a customer – us, Davide Team – could see the collection, choose the products and finalise the choice in two hours…. Was I wrong? Go back, and read first part of the story, before you continue – HERE.
Wracając do Showroomu Corneliani w Mediolanie. To, co zobaczyłem, było chyba największym zaskoczeniem całego wyjazdu. W głowie miałem jednopomieszczeniowy sklep, gdzie klienci – my, Davide – moglibyśmy zobaczyć nową kolekcję i sfinalizować transakcję w dwie godziny. Jeśli nie wiesz o czym mówię, wróć do pierwszej części tego wpisu – o TUTAJ.
Corneliani Showroom Milan
Location
The Showroom is located inside an old building with a gate which could pass for a very ordinary gate. But what awaits inside, is what is most important. The gate leads to a big patio, with three entrances inside. Two of them are closed, and only one remains open. To get to Corneliani, you need to pass the gate, then the patio, and finally pass through security before entering the Showroom.
Showroom zlokalizowany jest w starej kamienicy, z dużą, całkiem zwyczajną bramą. Ale to, co kryje się za nią, jest najważniejsze. Brama prowadzi na spore patio, z trzema wejściami na każdej ze ścian je okalających. Dwa z nich są zamknięte. Aby dostać się do Showroomu Corneliani, trzeba przejść przez bramę, następnie przez patio, aby finalnie dostać się do środka mijając ochronę budynku.
And this is where it gets exciting. The Showroom stretches inside the square-shaped building, around a spacious patio. Three of it's four walls (one being the gate) belong to Corneliani, making it at least 1000 square meters big. It consists of 7 separate rooms, each packed with different categories of products.
I to właśnie tutaj zaczyna się zabawa. Showroom rozpościera się wewnatrz budynku zbudowanego na planie kwadratu, dookoła przestronnego patio. Trzy z jego ścian (czwartą jest brama) należą do Corneliani – powierzchnia całości to co najmniej 1000 metrów kwadratowych! Składa się na nią 7 osobnych pomieszczeń, każde z innym rodzajem ubrań i produktów Corneliani.
Corneliani Showroom Milan
Corneliani Showroom Milan
What is important?
First, with leather items – jackets, shoes, accessories, bags, and all sorts. Then knitwear, polos, all sorts of cotton / silk shirts and t-shirts. The third room presented the mannequins, that showcased new collection's visual side. Then there were two rooms dedicated for the ID part of the collection, which is a more sport-focused, relaxed side of the brand. The penultimate room presented the Sartoria Collection, which is the most expensive and classic at the same time, element of Corneliani brand.
Pierwszy, ze skórzanymi produktami – kurtkami, butami, akcesoriami, torbami. Kolejny obwieszony swetrami, polówkami, wszelkiego rodzaju koszulami i koszulkami z jedwabiu / bawełny. Trzecie pomieszczenie prezentowało wszystko po trochu – mnóstwo manekinów tworzyło swoisty tłum, prezentujący całą kolekcję. Dwa kolejne zajęte były przez kolekcję ID, czyli tą bardziej sportową, wyluzowaną, codzienną. Przedostatni pokój prezentował najbardziej klasyczną, najdroższą i prestiżową linię – Sartoria.
Corneliani Showroom Milan
Corneliani Showroom Milan
Sartoria Collection
It can be easily recognised by hand-stitched details, manica camica shoulders, rather safe colours and patterns (you can / will be able to read more about how to recognise high quality suits HERE), wooden hangers and high quality suit bags. Last room was dedicated to festive clothings. There were many tuxedos, dinner jackets, vests and shoes, prepared solely for one purpose – to shine on very formal events, black tie mostly.
Wprawne oko łatwo rozpozna ją po ręcznie wszywanych detalach marynarki, manica camica, stonowanych kolorach i zachowawczych wzorach (możesz / będziesz mógł przeczytać więcej o tym, jak rozpoznać wysokiej jakości garnitur TUTAJ) a także drewnianych wieszakach i wysokiej jakości pokrowcach. Ostatni pokój przenaczony był na prezentację strojów na specjalne okazje. Smokingi, marynarki wieczorowe, kamizelki i buty, stworzone tylko w jednym celu – żeby uświetniać tylko te najbardziej eleganckie wydarzenia.
Corneliani Showroom Milan
Corneliani Showroom Milan
What is more, each of the rooms was equipped with a huge table. At every table, there were at least two people – Corneliani salesman, if I can call them that way, and customers, on the other side. Both titles / descriptions feel like a very huge undervaluation of the people around the table. The Corneliani employees are mostly part of the Corneliani family. I also had a chance to shake hands and exchange courtesy kisses (I'm so not used to this Italian custom) with one of Corneliani Brothers, staying in charge of the company for the previous years.
Ponadto każdy z pokojów wyposażony był w ogromny stół. Przy każdym ze stołów siedziały przynajmniej dwie osoby – sprzedawca Corneliani, jeśli tak mogę go nazwać, oraz klient naprzeciwko. Oba określenia brzmią bardzo deprecjonująco dla obu stron stołu. Obsługa w Showroomie Corneliani to w większości (odległa) rodzina. Miałem nawet przyjemność wymienić uścisk dłoni i kurtuazyjne całusy (o jak bardzo jestem nieprzyzwyczajony do tego zwyczaju) z jednym z Braci Corneliani, którzy prowadzili firmę w minionych latach.
"Customers" are owners of the mono brands, multi brands and boutiques selling Corneliani around the world. If I counted wrists sporting a Rolex, there were surely more of them than shrimps in the pasta I had during the lunch…
"Klienci" to właściciele monobrandów, multibrandów i butików sprzedających produkty Corneliani dookoła świata. Jeśli miałbym policzyć ilość nadgarstków noszących Rolexa, z pewnością byłoby ich więcej niż krewetek w makaronie, który jedliśmy na lunch…
Speaking of which. When we arrived, we were pleased with a strong Italian espresso – or actually a few of them. After making the first selection, which meant being shown all products in the showroom and then choosing the ones that fit the Davide Atelier and our own taste, we headed for a lunch, which was served in the basement.
A propos. Kiedy dotarliśmy na miejsce, nasz dzień pracy rozpoczął się od kilku mocnych espresso. Po zrobieniu pierwszej selekcji, co oznacza obejrzenie całej kolekcji i wybranie z niej produktów, które pasują do pomysłu i idei Davide, udaliśmy się na lunch, który był serwowany w piwnicy.
Corneliani Showroom Milan
Grand Finale – The Lunch
I must stop here for a second, to state something I have observed. The ambience in the Corneliani showroom I would call rather business-oriented. From the very first step we took there, we were reminded that it all sums up to spending thousands of euros on the products of our choice. The lunch started only when we asked for it.
Corneliani originated in the northern part of Italy. Remember about this, when you will read the second part about visit in the Kiton's Palazzo – which was, by the way, the best thing that has happened to me during that trip to Italy…
Muszę się tutaj na chwilę zatrzymać, aby stwierdzić coś, co zaobserwowałem. Atmosfera w Showroomie była zdecydowanie zorientowana na biznes i sprawy zawodowe. Od pierwszych kroków postawionych tutaj, czułem, że głównym celem wizyty jest wydanie kilkudziesięciu tysięcy euro na wybrane przez nas produkty. Lunch zaczął się dopiero wtedy, kiedy o niego zapytaliśmy.
Corneliani wywodzi się z północnej części Włoch. Pamiętajcie o tym, czytając kolejną część tej opowieści o wizycie w Pałacu Kitona (najlepszej rzeczy, jaka przydarzyła mi się do tej pory podczas wszystkich wizyt do Włoch).
The lunch was of course an Italian masterpiece. What I find really funny is that in Italy, Italian food is much more simple and basic than Italian cuisine in restaurants around the world. We were pleased with a few different types of cheese (I remember Grana Padano, Scamorza, Burrata and a super fresh Mozzarella), Prosciutto and ciabatta with olive for a start. Then, tomato pasta (that consisted of pasta, tomato passata and a spoon of parmiggiano), followed with Vitello Tonnato -which I would like to call a discovery of the year 2017.
Corneliani Showroom Milan
I have been to Italy around 40 times roughly counting and it was my first contact with Vitello Tonnato – a super delicate vial meat, served with a cream based tuna sauce, mixed with anchois and cappers. It's super light, extra tasty and very easy to do at home – I already tried it…
Lunch był – oczywiście – włoskim majstersztykiem. To co uważam za zabawne, to fakt że jedzenie we Włoszech jest dużo prostsze i mniej skomplikowane niż w jakiejkolwiek włoskiej restauracji na świecie. Do jedzenia, na początek, dostaliśmy kilka rodzajów sera (pamiętam Grana Padano, Scamorze, Burrate i super świeżą Mozzarellę), Prosciutto i ciabattę z oliwą. Następnie – na primo piatto – pastę pomidorową (która składała się z pasty – makaronu – pomidorów, i odrobiny parmezanu) i secondo: Vitello Tonnato.
Chciałbym jednocześnie ogłosić je odkryciem roku 2017. Będąc we Włoszech około 40 razy w życiu, pierwszy raz zetknąłem się z Vitello Tonnato właśnie w Showroomie Corneliani – to super delikatna cielęcina, podana w sosie śmietanowo – tuńczykowo – kaparowym, zmieszanym z anchois… Rozpływa się w ustach, a jednocześnie zostawia delikatny cierpki smak kaparów, zmieszany z delikatnością tuńczyka w śmietanie…
Perfect Inspiration
The second part of the day at Corneliani was rather calm and helped me realise that nothing calms the mind like an Italian comfort food plus a strong espresso. We spent around 8 hours in the Corneliani showroom, but none of them felt too long. The creative process consisted of analysing fabrics, trying to distinguish between thirty striped jacket materials. Putting yourself in the shoes of our customers, evaluating their attitude towards the small part of the whole collection we have decided to show them was also very satysfying. I must admit, that everything around me was super inspiring – we have found many visual inspirations, a lot of nicely dressed manequines and even more well-dressed Italians.
Druga część dnia w Showroomie Corneliani była raczej spokojna i pomogła mi uzmysłowić sobie, że nic tak nie uspokaja człowieka jak porządne, włoskie jedzenie i mocne espresso. Spędziliśmy tutaj około 8 godzin i żadna z nich nie była męcząca. Proces zakupowy składał się z wyboru materiałów, oraz prób rozróżnienia 30 różnych tkanin w paski… Wymaga to postawienia się w miejscu końcowego klienta i zastanowienia, jak odbierze naszą selekcję, czy uzna ją za spójną z wizerunkiem sklepu i czy zachęci go ona do wybrania pełnych zestawów ubrań. Przyznam szczerze, że taka praca przynosi ogromną ilość satysfakcji – szczególnie teraz, z perspektywy czasu, kiedy poznaję kolejnych klientów i ich potrzeby, a także mogę uczestniczyć w ich zaspokajaniu.
Wszystko dookoła było dodatakowo niesamowicie inspirujące – manekiny, wystrój, uniformy pracowników, ich nastawienie do klientów.
This Feeling…
I left Corneliani showroom with a feeling, that the SS18 collection is going to be very strong, and that overall, we have chosen the best garments possible. I didn't expect this feeling to follow me for the next few days, but it did…
Opuszczałem Showroom Corneliani z przeświadczeniem, że kolekcja Wiosna / Lato 2018 będzie na prawdę mocna, a nasza selekcja bardzo trafna. I to poczucie chodziło za mną przez kilka kolejnych dni…