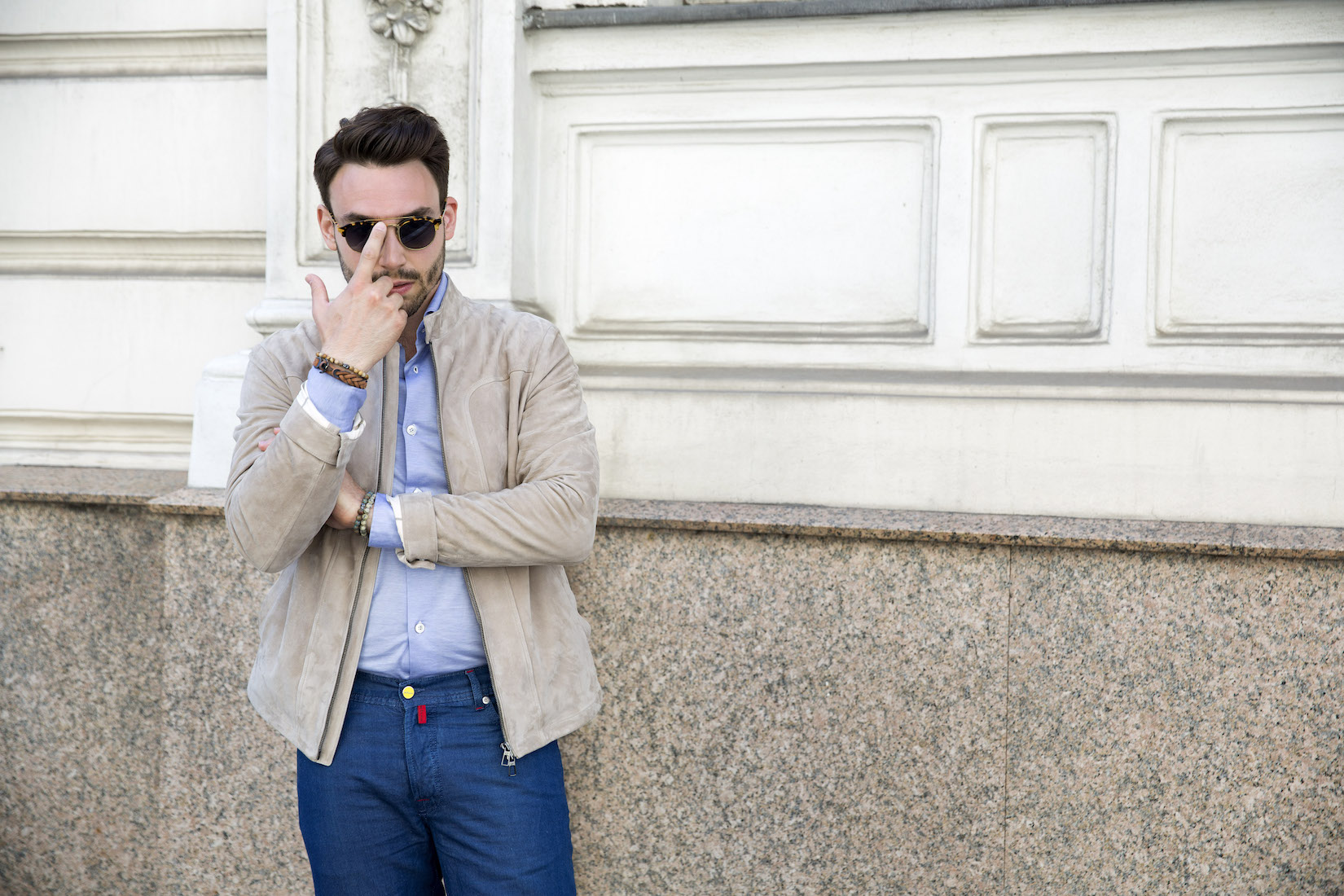 18 Mar

World doesn't end on men's elegance
Not only a niche
New High Style is supposed to bring you, the reader, value in the form of stories, photographs, people, products, places and recommendations. But I do not want to enclose myself in a very small niche, that is a passion for men's elegance.
New High Style will be about looking good and feeling good. And this, you can achieve by wearing almost everything you like. But in my space, I will be showing you what I feel good in. And a pair of jeans, shirt and leather jacket is definitely something I feel like myself.
New High Style to przestrzeń, która przyniesie Wam, czytelnikom wartość w formie historii, fotografii, ludzi, produktów, miejsc i rekomendacji. Ale nie zamierzam zamykać na małą niszę, jaką jest męska elegancja.
New High Style będzie mówiło o tym jak czuć się i wyglądać dobrze. A to, można osiągnąć na różne sposoby, nosząc praktycznie wszystko. W mojej przestrzeni będę pokazywał Wam to, w czym ja czuję się dobrze. A para jeansów, koszula i prosta skórzana kurtka to zdecydowanie coś, co pozwala mi się czuć dobrze.
Simple but spectacular
There is something in the minimalism that attracts my attention. I find a lot of energy in empty spaces, very simple forms and monochromatic arrangements in architecture. Minimalism is also something I like in clothing. And there is nothing better, than a simple, not complicated set consisting of a pair of jeans, blue shirt and a leather jacket.  Also, the colours of the clothes of my choice are following the same pattern – there are just 2 main ones, which results in a calm but satisfying mix.
As Ciro Paone, the Patron of Kiton once said: "Quality is simplicity, understatement and clear lines." And honestly speaking I agree with every word in this sentence. Breaking them apart, one can consider each separately.
Jest coś w minimaliźmie, co przyciąga moją uwagę. Odnajduję dużo energii w przestrzeniach, które mają proste formy, monochromatyczne elementy i w prostej, "pustej" architekturze. Minimalizm lubię również w ubiorze. A nie ma nic lepszego, prostszego i mniej skomplikowanego niż jeansy, prosta skórzana kurtka i błękitna koszula. Kolory wspomnianych ubrań to również swoista nuda – dwa główne, wzbogacone o pojedyńcze kolorystyczne dodatki. Efekt? Spokojny, satysfkacjonujący mix.
Jak powiedział Ciro Paone, Patron Kitona: "Jakość to prostota, niedopowiedzenie i proste linie". Będąc zupełnie szczerym, ciężko się z tymi słowami nie zgodzić. Pokuszę się również o mikro analizę każdego ze stwierdzeń osobno.
Simplicity is quality
Of course, it is. If you produce something and repeat the same process many, many times, you master it. Simplicity is something, that one cannot undervalue. Best example? Loro Piana leather jacket. It is just a leather jacket. Simple. No fancy accessories, no visible logo or branding, and yet you can feel the quality and passion that gave birth to this product.
Loro Piana mastered the art of simplicity in men's clothing, and the results are outstanding. More about this brand, you will be able to read here, shortly.
Oczywiście, że prostota to jakość. Jeśli produkujesz, tworzysz coś i powtarzasz ten sam proces wielokrotnie, stajesz się mistrzem. Prostota to coś, czego nie da się niedocenić. Najlepszy przykład? Skórzana kurtka Loro Piana. Prosta, bez efektownych dodatków, widocznego brandingu. A jednak czuć jakość i pasję, która dała życie temu kawałkowi krowiej skóry.
Loro Piana opanowało do perfekcji prostotę projektowania i tworzenia ubrań – rezultaty ich pracy są niesamowite. Więcej na temat tej marki, będziecie mogli przeczytać wkrótce tutaj.
Understatement is quality
Why? This might sound a little misleading. What I understand, is that quality speaks for itself. It doesn't need banners, shouting advertisements. Quality to be understood doesn't need to tell everything at once. It may stay a little mysterious, and speak for itself.
Proof? Loro Piana uses almost no marketing. Kiton doesn't even have an official Facebook page (I know, impossible nowadays). It doesn't need to tell everything about its products. The famous Kiton's marketing slogan says "The Best +1". No stories about what they do, no promises about how you will look or feel. Just a simple message – we do it better than the best. It surely is a huge understatement.
Dlaczego? To stwierdzenie może być trochę niezrozumiałe. Rozumiem przez to, że jakość mówi sama za siebie. Nie potrzebuje sloganów reklamowych, krzyczących banerów, przykuwających uwagę reklam. Jakość, aby być zrozumianą, nie musi ujawniać wszystkiego od razu. Może zostawić nutę tajemniczości, drobne niedopowiedzenie. 
Przykład? Loro Piana praktycznie nie prowadzi żadnych działań marketingowych. Kiton nie posiada nawet oficjalnej strony na Facebooku (niemożliwe, prawda?). Obie te marki nie muszą mówić wszystkiego o swoich produktach. Słynny slogan Kiton to "Najlepsze plus jeden". Bez opowieści co robią, bez obiecanek jak będziesz wyglądał i czuł się. Tylko prosty przekaz – robimy to lepiej niż najlepsi. W przypadku Kitona to zdecydowanie duże niedopowiedzenie.
Clear lines are what makes quality
It is the transparency and identity, that makes people understand what the product, the brand is about. The message has to be unobscured and simple. Clear. If you are in the business of making shoes, it has to be put in particular words. The story you want to tell needs to be a story about what you do, and a story everyone would understand.
To przejrzystość i tożsamość sprawiają, że ludzie rozumieją co stoi za produktem, marką. Przekaz musi być prosty i nieprzysłonięty. Jasny. Jeśli jesteś w biznesie szycia butów, musi być opowiedziany konkretnymi słowami. Historia, którą chcesz opowiedzieć, musi być historią o tym co robisz, opowiedzianą w sposób zrozumiały dla wszystkich.
My outfit
I always considered Loro Piana as a brand for men in their "golden age". But when it comes to casual style, a very simple and minimalistic one, Loro is a way to go. Their distinct design, very recognisable, is at the same time a proof of quality. The Summer Walk shoes are extremely comfortable and super soft. They feel like walking on a soft, fresh grass. I also love the details of the jacket – the interior lining with a very delicate checked pattern or branded inside pocket.
Zawsze uważałem Loro Piana za markę dla mężczyzn w "złotym wieku". Ale jeśli chodzi o styl casualowy, prosty i minimalistyczny, Loro nie ma sobie równych. Ich wyrazisty i rozpoznowalny design jest jednocześnie dowodem jakości. Buty Summer Walk, które mam na stopach, są niesamowicie wygodne i bardzo miękkie. Czuję się w nich jakbym chodził po świeżej, miękkiej trawie… Uwielbiam też detale kurtki – podszewka w drobną, delikatną kratkę, czy logo na wewnętrznej kieszeni.
Kiton is a completely different story – the pants are branded with many visible red logos. All details were probably designed to be an integral part of the Kiton's red dot policy – "show it in as many  places you can"… Although I feel the Loro Piana philosophy much more, I must say I understand Kiton's choice to brand very detail. In my opinion, it is one of the few brands that actually can do it, due to their position and quality they stand for.
Kiton to natomiast inna bajka – ich spodnie krzyczą wieloma widocznymi czerwonymi logotypami. Wszystkie detale zostały prawdopodobnie zaprojektowane zgodnie z polityką czerwonej kropki Kitona: "pokażmy ją tam, gdzie się da". Chociaż bliższa jest mi filozofia Loro Piana, rozumiem zapędy Kitona. W mojej opinii są jedną z niewielu marek, które moga sobie na to pozwolić, ze względu na status i pozycję, oraz jakość, która za nimi stoi. 
Thankfully, Kiton's azure shirt has no visible logo's and is a regular cotton shirt with a nice Italian collar. Normally I would say sleeves are too tight, as I like a more Neapolitan, relaxed and loose fitting, but in the case of a slightly elastic cotton fabric, I say it feels and looks very good.
Na moje szczęście, błękitna koszula Kitona jest bez logotypów. To zwykła bawełniana koszula, z włoskim kołnierzykiem. Normalnie stwierdziłbym, że rękawy są zbyt obcisłe. Na codzień lubię raczej Neapolitański luz w tych miejscach, ale ze względu na splot dający delikatną elastycznosć mogę śmiało stwierdzić, że czuję się i wyglądam w niej dobrze.
The detail I like the most?
Tapes on the back of the inside of the pants bottom. So simple, and yet creative – I love the way they look when you turn them inside out! And they are red – of course. I finished the outfit with accessories I love – natural stone bracelets and a shark's leather anchor bracelet. I don't always wear a watch, but I cannot leave home with my wrists completely empty, it make's me feel uncomfortable.
Taśmy, na tyłach nogawek spodni! To takie proste, a jednocześnie kreatywne. Uwielbiam, że po ich podwinięciu wychodzi na wierzch kontrastowa taśma – oczywiście czerwona! Mój zestaw uzupełniłem o moje ulubione akcesoria – bransoletki z naturalnych kamieni i rzemyk z kotwicą, ze skóry rekina. Nie zawsze noszę zegarek, ale zawsze czuję się dziwnie, wychodząc z domu z pustymi nadgarstkami. Nie czuję się wtedy komfortowo.
A promise for the future
This post is a first of many to come, that will showcase a casual, everyday looks. I want to show you, that being classy doesn't always mean to wear a tie and a jacket. You can also be yourself in a pair of jeans and a leather jacket, as long as they match each other, create a finished look and give you the confidence! Remember, you wear the clothes, not the other way around – don't be afraid to choose the casual style from time to time.
To jeden z wielu postów, w który pokazuję casualowy, codzienny ubiór. Chcę przekonać Was, że bycie dobrze ubranym nie zawsze oznacza noszenie krawata i marynarki. Można być również sobą w jeansach i skórzanej kurtce, jeśli tylko do siebie pasują, pozwalają stworzyć cały outfit i dają pewność siebie. Trzeba pamiętać, że to Ty nosisz ubrania, a nie odwrotnie, można więc pozwolić sobie czasem na odrobinę ubraniowego luzu.
Pictures were made by Ola Szewczul / studiostandard.pl